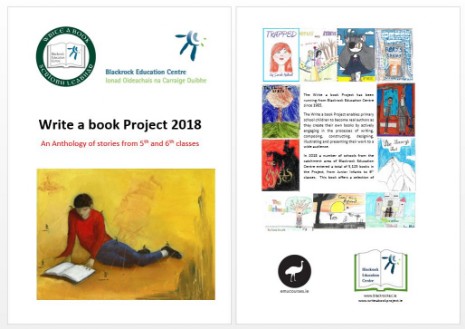 12th June 2018

We are publishing our first book!!!


Blackrock Education Centre's first ever publication of our Write a book Merit Award stories is a very special occasion for us. It has been a wish for our centre and our Write a book committees for more than 20 years. We are delighted that, this year, we can make this dream come true.
Every child's journey to the publication of their story in this book, began with their parents - most likely before they could even speak. Every picture book read to these children as babies, every bedtime story, every story made up on long car journeys, every family story told with relatives and friends, has played a part in these children's experiences and the development of their creative storytelling ability. It is a very proud moment for all of our parents, guardians, grandparents and families who have had a huge part to play in this, and who deserve lots of thanks.

Our children's teachers, right from their first day at school, are also to be thanked and praised for the expert teaching and the wonderful inspiration and encouragement they have given to our children at every stage. Their dedication in helping to mould the writers and novelists of the future is a testament to their vocation.
And to the boys and girls who have spent weeks and months creating, writing, drafting and re-drafting, in order to delight us with their wonderful work - congratulations and well done! You should be very proud! You are now published authors. Your talent is celebrated in this anthology of Write a book Merits 2018 and we hope to enjoy many more of your stories and novels in the future.
And finally, to our Write a book team, our staff at Blackrock Education Centre, teachers, parents, guardians and especially our young authors - thank you! You have contributed to something very special, memories that will outlast us all, and a book which can be read, by the children who wrote it, to their own children and grandchildren.



Hugo Dunne's story, An Cnock, from St Gerard's Junior School 6th Class, could not be included in the anthology, because it was in comic form, but we can see it here!

16th April 2018

What a wonderful year of books! I was able to have a look at some of the ones that were chosen as Merits and I wish I could remember the names of their writers, because I bet some of them will be published in the years to come!

Around the time Stephen Hawkins died, a book about the universe, written by Isabelle Murphy, from St Coen's National School, came into my hands. Isabelle's book had been chosen as a Merit, among Ms Keane's class (how difficult it must have been for the reader who chose it, because all the books were so wonderful!).

Remember to look up at the stars and not down at your feet. Try to make sense of what you see and wonder about what makes the universe exist. Be curious. And however difficult life may seem, there is always something you can do and succeed at. It matters that you don't just give up. Stephen Hawking



Details of Ceremony times on Monday 23rd April 2018 are as follows:

1st and 2nd Classes: Registration at 3.30, Ceremony at 4.00 pm
3rd and 4th Classes: Registration at 5.00, Ceremony at 5.30 pm
5th and 6th Classes: Registration at 6.30, Ceremony at 7.00 pm

Children will be collecting their Merit books when registering. Please ensure you give yourselves enough time.

The venue is the Fitzpatrick Castle Hotel, Killiney, Co Dublin

16th January 2018

Dear Diary,

My computer was replaced over the Christmas holidays so I did not get a chance to update you on my progress. Santa came and left a few books behind for me, plus a Kindle that is being stuffed with e-books.

Talking about books, there is an email out there asking to check the list of registered teachers participating in the Project. I know how important it is to make sure that every teacher bringing books is in the list for exchanges on the 8th February! Otherwise, we all have to wait until the details are entered by hand...

20th November 2017

Dear Diary,

Last night I was having my dinner in the pub with the family, actively trying to avoid looking at the football match on the screen, when I saw a bus passing by advertising a new movie, The Man Who Invented Christmas. Well, with only 35 days to Christmas, it looks very appropriate! What was that effect called??? Ah, oui: mise-en-abyme! Well, ok, not really, as this will be a book within a story within a movie... Still, that kind of theme is always interesting. I wonder if any of the books from the Write a book Project will pick up on the idea...


3rd November 2017

Dear Diary,

I didn't know November was "National Novel Writing Month", or #NaNoWriMo as it's known online. I found a very interesting article about it, from JSTOR. OK, it is about writing a novel by novel writers, but I am sure among those words there will be something that the teachers and the children can apply for the Project.


1st November 2017


Dear Diary,

It is nearly the end of the mid-term break and, as the golden leaves cover the sides of the roads, it is time to think again (for some) on the Write a book Project.

So far, all the schools that participated last year and those in the Blackrock Education Centre's catchment area have received the following email:

And it seems that, by now, 20 schools, or one hundred and twenty-five teachers, are already ruminating what they'll be doing.



I wonder how many books are there already in the planning process...