Application/Registration form

We can now accept payment for Application/Registration fee by post, credit card or bank transfer.


Fee of €20 per class – maximum €100 per school.


If your school is in a disadvantaged area and this fee poses a problem please get in touch with us.

Registration Form
Book ID


All books must use this label with all relevant information.


The label should be securely affixed to the inside back cover of each book.


The form can be typed before printing.


Some glues do not work on plastic: please ensure the ID label will not fall.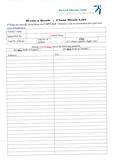 Class book list


Two class lists are needed: one for the office and one with the bundle of books.


A class list must accompany each set of books, with the total number of books enclosed printed clearly on top.


Check your class list and be sure that an absent book is not listed as it can cause major administrative problems.


A class list must also be attached to each set of books.


The class list can be typed.